The poet captures images in his mind and paints them on paper with words for you to see.
About the author
Raymond Nichols is an author, artist, family historian, and blogger previously published in THE AMERICAN POETRY ANTHOLOGY, BEST NEW POETS OF 1986, HEARTS ON FIRE(A TREASURY OF POEMS ON LOVE), and THE COLORS OF LIFE.

Thursday, July 11, 2019
poet pictures tee shirt
the poet pictures images in his mind and now you can wear them on your shirt...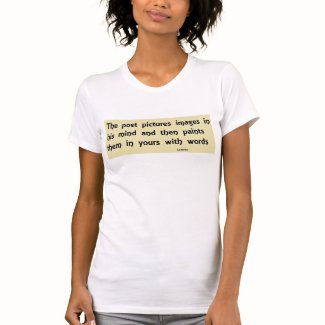 poet pictures T-Shirt
by
raynichols
Posted by

ray nichols
at 5:47 AM

Labels
poetry
(67)
quotes
(30)
AWARDS
(3)
allpoetry
(3)
poetry month
(3)
prose
(3)
shop
(3)
thought of the day
(3)
thoughts
(3)
2015
(2)
fiction
(2)
poem
(2)
tees
(2)
words
(2)
100000poets4change
(1)
1984
(1)
ARMED SERVICES DAY
(1)
CHRISTMAS
(1)
DISTINGUISHED POET AWARD
(1)
Earth Day
(1)
HALL OF FAME AWARD
(1)
Happy Halloween
(1)
MASTER POET AWARD
(1)
MOST VALUABLE POET AWARD
(1)
NaPoWriMo
(1)
POKEMON
(1)
PRINCE
(1)
PSIMON
(1)
PURPLE RAIN
(1)
TRIBUTE
(1)
WW3
(1)
apocalypse
(1)
artforfreedom
(1)
ballad
(1)
big brother
(1)
country
(1)
dreamer
(1)
eyes
(1)
green
(1)
images
(1)
lyrics
(1)
merch
(1)
mind
(1)
mugs
(1)
narrative
(1)
new world order
(1)
paints
(1)
paper
(1)
philosophy
(1)
pics
(1)
poet
(1)
pov
(1)
rap
(1)
read
(1)
secretprojectrevolution
(1)
song
(1)
soul
(1)
visions
(1)
world
(1)